Expert Tips for Hiding Seams on Dark Wallpaper
Dark wallpapers are currently trending, with black becoming the new gray in the 2020s. However, there is a common issue with these dark wall coverings: manufacturers often use a white backing that can show through and create an unsightly seam. So, how do we hide this seam and achieve a seamless look?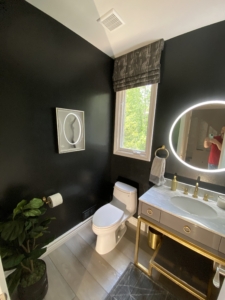 In the past, if a seam on dark wallpaper was showing, people would use watercolor markers to color it in and match the wallpaper. However, there is a much better way. What I like to do is always prime the wall with a good, hard acrylic primer and tint it with to match the background color of the wallpaper. The reason for this is that over the years, walls tend to shift and move with the seasons. If you have a white-primed wall, the black wallpaper will highlight any seams that may appear. By tinting the primer to match the wallpaper, you create a seamless look that will last for years.
The other part of this equation is to buy a chalk that matches the wallpaper and grind it in a spice grinder to a fine dust. Then, I take a makeup brush and powder the edge of the wallpaper roll. This creates a similar effect to tinting the primer – it helps to blend the white backing into the wallpaper and makes the seam less noticeable. Plus, the chalk dust is easy to wipe away if any excess powder remains on the wallpaper.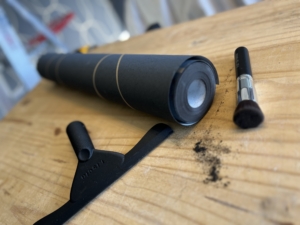 In conclusion, dark wallpapers are a popular choice for homeowners looking to add some drama and elegance to their walls. However, the issue of visible seams on dark wallpaper can be a challenge. By following these simple tips, such as priming the wall with a tinted acrylic primer and dusting the edge of the wallpaper with matching chalk, you can create a seamless look that will last for years. With a little bit of extra effort, you can achieve a flawless finish that highlights the beauty of your dark wallpaper and transforms your space into a stylish and sophisticated oasis.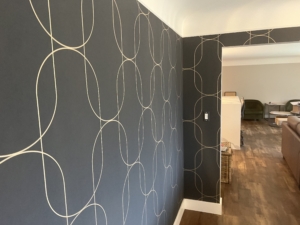 by Barry Bernau